WEINWURMs Grune Veltliner
Grunen Veltliner - our life!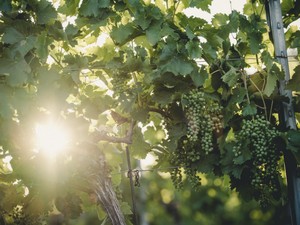 The Gruner Veltliner is more than just a drink to us. It is the foundation, the basis of our product range. Deep loess soil, mixed with loam and gravel, bright sunshine and an optimal microclimate create the best conditions for our vineyards. It is Austria`s most widely grown grape varietey with its focus in Niederöstererreich (Lower Austria).
Deeply rooted in the Weinviertel, Gruner Veltliner is also number one in our region and has the largest area under cultivation.
Most of our Gruner Veltliner grows on our two single vineyards Ried Schilling and Ried Kugelberg. The south facing Kugelberg is an airy gravel site. The uppermost layer consists of loam and loess, which ensures that the fruit and the typical peppery aromas gain full expression. The neighbouring site Schilling is an exposed hilly site that slopes to the south. Plenty of sun and the adjacent Plot- forest favour dense, powerful wines. The typical Austrian Gruner Veltliner is vinificated DRY, as is the case with our wines.
Georg's passion for Gruner Veltliner can sometimes be recognized by the number of wines he produces. We now have four different Gruner Veltliners in our range. From light, acidic wines flattering the palate to mature, complex wines with aging potential. In essence very similar and yet so individual and each with its own strong character.
Food pairing
The Gruner Veltliner proves itself as an all-rounder. The spicy mix of fruit and pepper, complemented by a harmonious acidity, makes Gruner Veltliner one of the most universal food companions of all.
Characteristics and typicity
Also called Weißgipfler, Gruner Veltliner produces large, medium-dense grapes, which turn greenish-yellow on the sunny side in the final ripening phase. The variety is fertile and is yield-regulated in our vineyards for quality reasons. During the flowering period, Gruner Veltliner is sensitive and does not like drought so much, but it loves our loamy loess soils all the more. And during a sunny and long autumn, it ripens best. Gruner Veltliner is a natural cross between Traminer and an unknown grape variety called St. Georgen, which was found and identified in the Leithagebirge at Lake Neusiedl.
Origin and current distribution
Gruner Veltliner is Austria's flagship variety, the most important autochthonous grape variety in the country. Its exact origin is not known, it was first mentioned as a "new" grape variety in the 18th century and was at that time native to the Retz area north of the Danube. Gruener Veltliner achieved its current fame in the 1950s and due to the introduction of the high culture training system by Lenz Moser. The largest areas of cultivation today are located in Lower Austria.