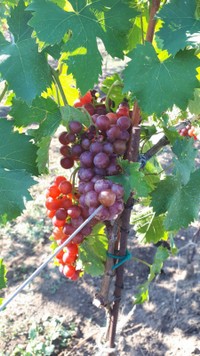 We fell in love with this type of wine during a visit to the French Alsace.
The
Red Muscat
, at that time served as wedding wine, immediately cast a spell over us. Today, it completes our Relm of Wines as the most fragrant and fruity aromatic variety and is Lisa's favourite.
Like all Muscatel varieties, the
Red Muscat
requires very good, sun-exposed and warm hillside locations - such as those found on the site Schilling in Dobermannsdorf. Winemaker Georg has perfected the cultivation, care and above all the vinification of our Red Muscatel in recent years.
WEINWURMs Red Muscat
has a unique, particularly fruity bouquet, a distinct nutmeg aroma and mirrors on the palate what the nose promises - particularly fine aromas of peach, lychee, mango and rose notes. We love the pleasant acid-sugar play on the palate. This wine is an excellent and enormously versatile food companion, is often served in social gatherings and accompanies many a balmy summer night.
Besides Gruner Veltliner,
Red Muscat
is our most important white wine variety. We care for it, we nurture it, we look after it, yes, we love it. And you feel that with every sip.
Out of numerous awards, the Lower Austrian Provincial Victory in 2015 was our greatest joy.
Food Pairing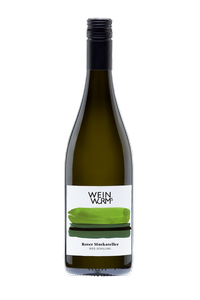 Our
Red Muscat
is an enormously versatile food companion. It goes well with seafood, pasta, Asian and traditional Austrian cuisine. We like to combine this wine with river trout or pumpkin goulash and pumpkin risotto. It is also often served as an aperitif and because it tastes so good, is also used as a universal talent to accompany other dishes on the menu.
Characteristics and Typicity
This grape variety is named after its delicate, pink to reddish coloured skin, which is formed in the final phase of ripening. Like all Muscat vareities, the
Red Muscat
is one of the aromatic varieties and develops a most pleasant nutmeg taste. The yield is somewhat lower and the grapes are somewhat slimmer. The wine is less strongly perfumed, the aroma is delicately structured. The acidity is harmonious and sensitive, less strong than that of the Yellow Muscat.
Origin and current distribution
The Muscat grape itself is about 4500 years old and has its origin in the Middle East. In warm climatic phases, these wines were gradually introduced to Central Europe, where the Yellow Muscat is now common. The cultivation of the
Red Muscat
, which is a mutation of the Muscat grape, is today concentrated in small parts of Germany, Austria and France, where it is also listed as an independent wine variety.